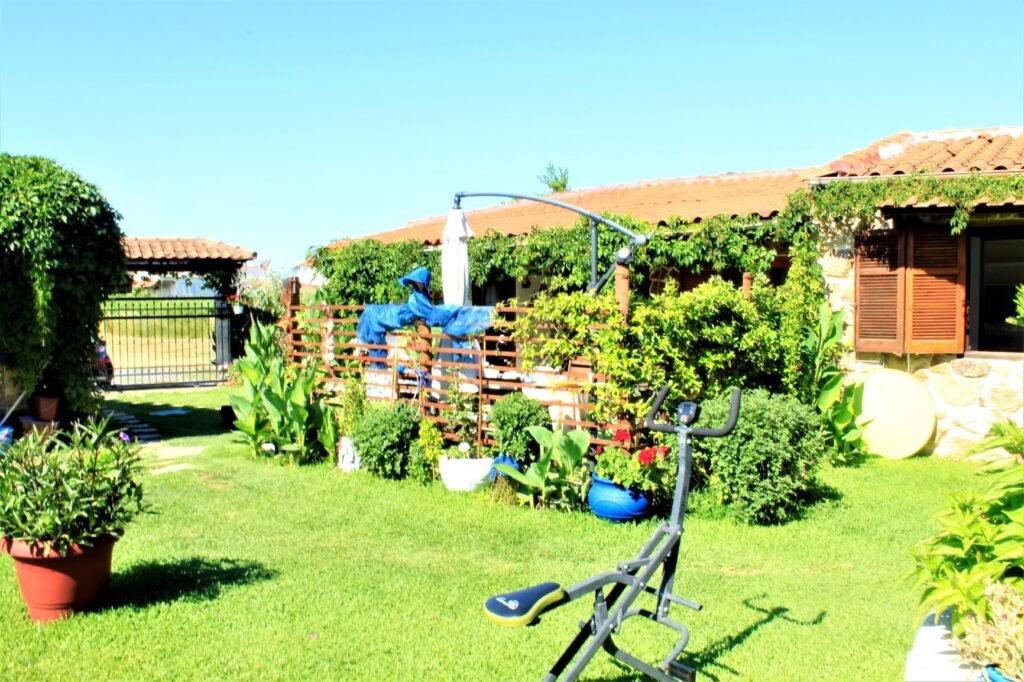 flower house by the sea, just 90m from the beach!!
wheelchair accessible house
flower house by the sea, IS A modern VILLA IN HALKIDIKI, IDEAL FOR THOSE WHO WISH TO STAY IN COMPLETE comfort AND RELAXATION, STEPS AWAY FROM THE BEACH, IN A PARADISE GARDEN!
ama 00001620887
Flower house by the sea is located 4km from Nea kallikrateia on Galini beach HALKIDIKIin in a complex of 2 villas. The house is just 90meters from the sea.
Parking is available just out of the property and its free. A fully equipded house with all amenities present. A fantastic view of the garden and the sea.The house has ,3 bedroosms WITH 2 DOUBLE BEDS AND 3 SINGLE BEDS,kitchen,2 bathrooms,and a private yard in a complex of 2 VILLAS.
Smart TV 32′,,free wi -fi,fully equipped kitchen,whasing machine,
and BIG STONE grill barbecue .A playground is on the garden and can be used FROM the kids.
Enjoy your coffee or dinner in our beatifull garden full of flowers.
The house has warm water all day from the solarheater.


JUST 90 METERS FROM THE SEA!!!!
BABY COT UPON REQUEST AVAILABLE,HAIR DRYER,FARMACY BOX,FILTER COFFEE MAKER,SMOKE DETECTOR,TEA POT,KITCHENETTE.
you can check for available dates,PRICES on the end of page
DISTANCES
Beach: 90m
Airport: 40km
Thessaloniki: 45km 
Nea kallikrateia: 4km
FLOWER VILLA BY THE SEA
| | | | | |
| --- | --- | --- | --- | --- |
| MAY | 115 EUROS | PER NIGHT | MAX 7 PERSONS | MIN STAY 5 NIGHTS |
| june 1-18 | 135 euros | per night | max 7 persons | MIN STAY 6 NIGHTS |
| june 19-30 | 145 euros | per night | max 7 persons | 6 nights |
| july | 170 euros | per night | max 7 persons | 7 nights |
| August to 04/09 | 175 EUROS | per night | max 7 persons | 7 nights |
| September 5 TO 16 | 145 euros | per night | max 7 persons | 6 nights |
| REST OF SEPTEMBER | 135 euros | per night | max 7 persons | min stay 5 nights |
March 2023

S

M

T

W

T

F

S

1

2

3

4

5

6

7

8

9

10

11

12

13

14

15

16

17

18

19

20

21

22

23

24

25

26

27

28

29

30

31
April 2023

S

M

T

W

T

F

S

1

2

3

4

5

6

7

8

9

10

11

12

13

14

15

16

17

18

19

20

21

22

23

24

25

26

27

28

29

30
May 2023

S

M

T

W

T

F

S

1

2

3

4

5

6

7

8

9

10

11

12

13

14

15

16

17

18

19

20

21

22

23

24

25

26

27

28

29

30

31
June 2023

S

M

T

W

T

F

S

1

2

3

4

5

6

7

8

9

10

11

12

13

14

15

16

17

18

19

20

21

22

23

24

25

26

27

28

29

30
July 2023

S

M

T

W

T

F

S

1

2

3

4

5

6

7

8

9

10

11

12

13

14

15

16

17

18

19

20

21

22

23

24

25

26

27

28

29

30

31
August 2023

S

M

T

W

T

F

S

1

2

3

4

5

6

7

8

9

10

11

12

13

14

15

16

17

18

19

20

21

22

23

24

25

26

27

28

29

30

31
September 2023

S

M

T

W

T

F

S

1

2

3

4

5

6

7

8

9

10

11

12

13

14

15

16

17

18

19

20

21

22

23

24

25

26

27

28

29

30